Folding Clothes Drying Rack
Folding Clothes Drying Rack
ONDA.WARMER

China

15 days

5000 per month
Applications: bathroom, toilet, kitchen towels, bath towels, washing cloths and small clothes drying.

* Bathroom: can be dried bath towel ,towel at any time and will not mildew; cold days, you can wear warm clothes in the first reated. That is comfortable.
* Toilet:can be dried hand towel at any time, Relaxing and health.
* Kitchen:can be dried washing cloth to sterilize at any time.
* Terrace: rainy days can be plugged in temperature drying, convenient; sunny day,it can be unplugged as the ordinary drying rack using. Waterproof grade is IP55,the international standards, can be directly put wet clothes, no leakage, absolutely safe
* Bedroom: bedtime can quilt reheat, warm and comfortable bed.
* Thermostat safety, health sterilization, healthy, comfortable, energy efficient (independent safety thermostat designed to maintain temperature keep of 55 degree, then drying towels, they will not burn the skin)

Environmental health: the effect of convenient and efficient, reducing bacteria, eliminate odor towels to reduce washing times to protect the human health.

Description: selection of 304 stainless steel, the surface finely polished, bright and smooth, long-term products exported to Europe,By SAA and CE certification, allowing you to use more safe and secure!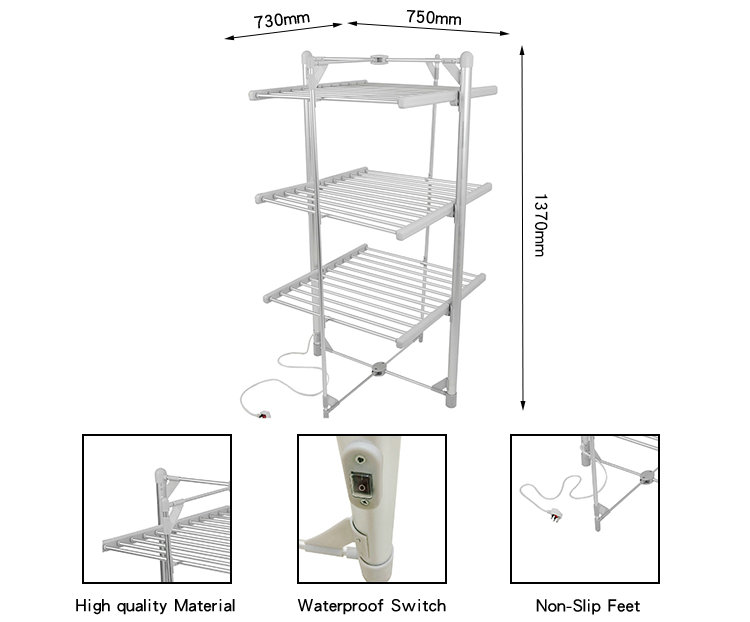 a).A heated towel rail is single or multiple bars that heat up and are used to dry and warm towels, articles of clothing, or even spaces. They are generally mounted to a wall but can also be freestanding or floor mounted. b).Heated towel rails are also known as heated towel racks, towel warmer,or drying racks. c).They are designed to replace standard towel bars and robe hooks by adding more fun
...more