Luxury Electric Heated Towel Drying Rack , Gold Finished
Luxury Electric Heated Towel Drying Rack , Gold Finished
ONDA.WARMER

China

Sample :15days ,mass order :30days

180000pcs/year
Picture this: you step out of the shower to find it's a bit chilly in the bathroom, your towel is still a bit wet/damp from your last shower and you're craving a dry warm towel … well now you can have just that! Not only can you use it for your towels but chuck on your clothes as well so that they're also nice and warm when you put them on. Look even more forward to your showers with this Electric Heated Towel Rack. There'll be no more excuses for not wanting to have a shower because of the cold! It's quick and easy to install and offers you a simply luxury that you shouldn't have to find only when you go to friends, family or hotels … now you can have it in your own home!
Gold finished heated towel rack :
Heated Towel Rails are no longer a luxury only experienced in 5 star hotels. You can now experience this in your own home every day. This heated towel rail is made from durable Stainless Steel which is plated in a lovely golden finish and runs on a low wattage of 75W so you don't need to worry about your energy consumption.

It's sleek design will suit any bathroom whether it be a traditional style or modern with a twist.

One of the benefits of this towel rail is it's ability to heat up quickly while the temperature is being monitered constantly which allows peace of mind, knowing it will never overheat.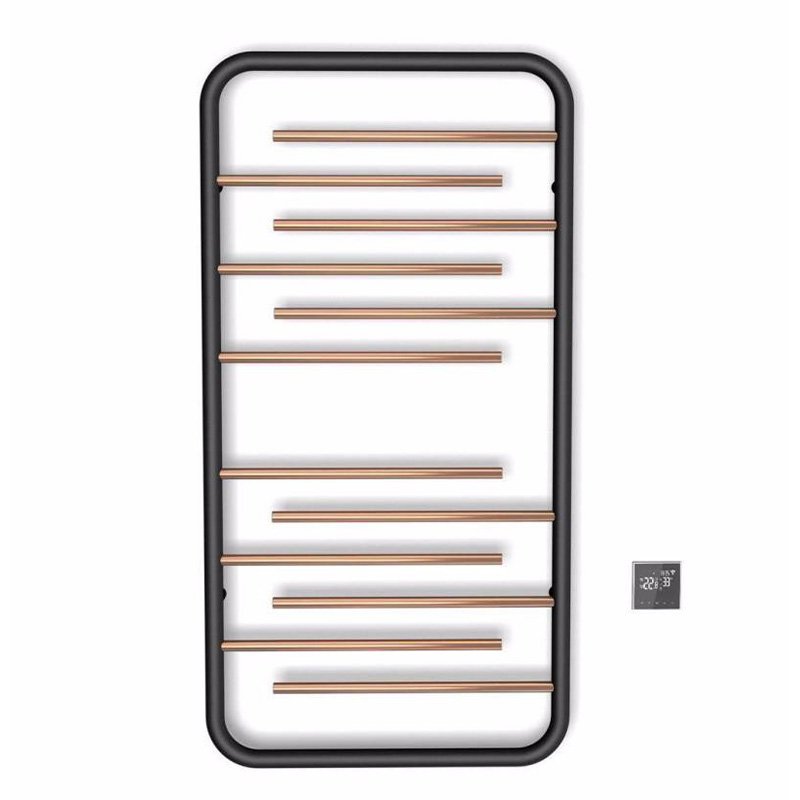 Product feature:
HIGH GRADE STAINLESS STEEL POLISH,AVALIABLE FOR DIFFERENT COLOR FINISHED .
POWER:50W,110V /220V/240V
ON/OFF:ON/OFF,2H&4H BUILT-IN TIMER
IP RATING:IP55
DIMENSIONS
Depth:110MM ,Height:1100MM,Width:500mm,
13 ROUND BARS
Our service
1. 2 years warranty for 201 stainless steel
2. 5 years warranty for 304 stainless steel
3. 1 year warranty for aluminum
a).A heated towel rail is single or multiple bars that heat up and are used to dry and warm towels, articles of clothing, or even spaces. They are generally mounted to a wall but can also be freestanding or floor mounted. b).Heated towel rails are also known as heated towel racks, towel warmer,or drying racks. c).They are designed to replace standard towel bars and robe hooks by adding more fun
...more